Accident Prevention Day: Alcohol is often behind scooter and bicycle accidents – head injuries common
Intoxicants are often a contributing factor to accidents involving electric scooters. Particularly at night, crashes and falls frequently happen at excessive speeds when a rider's reaction time is impaired by alcohol and/or drugs. Bruising to the brain is a common injury and often requires a long period of recovery. This year, the Accident Prevention Day campaign will be held throughout 9–13 August 2021, and will focus on the connection between intoxication and accidents.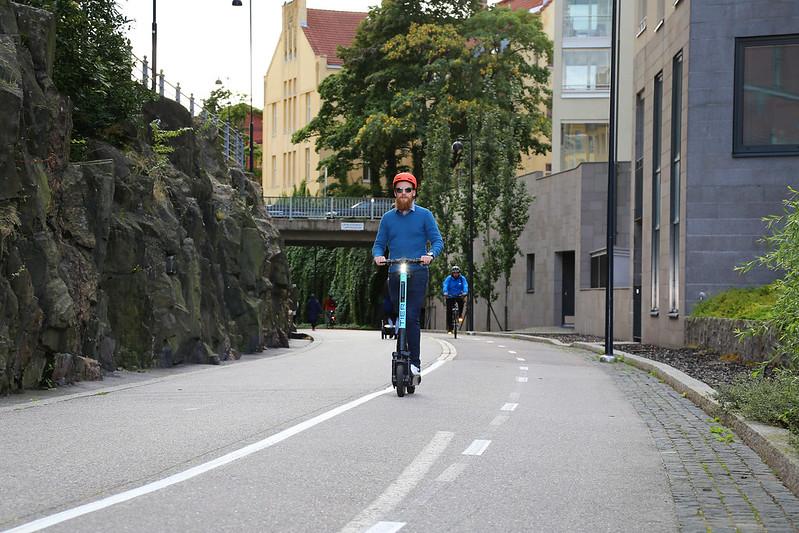 Photo: Kaisa Tanskanen/Finnish Road Safety Council
Patients arriving at the Emergency Department of Helsinki University Hospital (HUS) are often intoxicated. Arja Kobylin, chief physician at HUS Emergency Medicine and Services, reports that the number of people who are drunk tends to increase as a night progresses.

"It's surprising how often there is alcohol in the blood of people injured in scooter accidents. Intoxication is more common in motorised scooter accidents than in bike accidents", says Kobylin.
HUS Emergency Medicine and Services treat people injured in electric scooter accidents more frequently than they do those from bike accidents.

Since mid-July, the night-time speed limits for electric scooters have been lowered in town centres. The restrictions are in use only in some parts of the country, e.g. Helsinki. This experiment is to remain in place until at least the end of August. The speed limits aim to prevent accidents at night.

"By limiting the speeds of electric scooters, we hope to see fewer serious injuries, but that alone is not enough. Since the reduced speed limits, accident numbers have gone down a bit compared to earlier in the summer, but the figures are still dismal, particularly on weekend nights", says Kobylin.
Drinking and traffic don't mix
Even a small amount of alcohol can make negotiating traffic risky, regardless of one's mode of transport. Alcohol and/or drugs impact on a driver or rider's ability to judge speed and distance, and much else. Cycling or propelling a non-motorised vehicle while under the influence is a crime in Finland. Anyone who is drunk while riding a non-motorised vehicle in a manner that endangers other people can be fined or even imprisoned.

As Finnish Road Safety Council planner Tomi Niemi points out, " If you drink, you don't drive! That's always a good rule wherever there's traffic. An electric scooter is not a toy, it's a vehicle, as is a bike. It's a good idea to think beforehand about how you are going to get around on a summer's night, so that an impulsive decision doesn't put yourself or others in danger."
Head injuries are common and often heal slowly
HUS Emergency Medicine and Services handle minor injuries, while more seriously injured people are taken directly to Töölö Hospital. Arja Kobylin says that trauma patients who arrive at HUS Emergency Medicine and Services often come in with head injuries, such as broken facial bones, teeth knocked out, and/or with bruising to the brain. With milder brain injuries, the patients would usually have been unconscious for just a few minutes.

"Even so, they may exhibit confusion for a longer period afterwards and, also, how long their memories are impaired after an injury is also an indication of the severity of damage to the brain. We send a lot of patients for post-treatment check-ups to the brain injury clinic, where the neurological recovery of the patient is assessed following an injury", says Kobylin.

In addition to head injuries, wrist and clavicle fractures are also common. Fractures to the bones in the hand can also have a long-term impact on a patient's function.

"A wrist fracture, for instance, is usually put in a cast for five weeks, which diminishes the patient's ability to work at most jobs and an employee may need to take sick leave", says Kobylin.

Since 1993, Finnish authorities and NGOs have worked together on accident prevention. One form of cooperation has been trying to influence people's attitudes through the Accident Prevention Day campaign, organised for the 26th time this year. On Accident Prevention Day, always a Friday the 13th, people are encouraged to think about how they can lessen risks and prevent accidents at work, at home and in traffic. This year the Accident Prevention Day campaign runs throughout Monday–Friday, 9–13 August.

With alcohol involved, nasty predictions can come true.
To find out how you can avoid danger, go to: tapaturmapäivä.fi
For more information, please contact:

The Accident Prevention Day campaign
Saara Aakko, Planning Officer at the Finnish Red Cross, telephone 040 4806973, saara.aakko(at)punainenristi.fi
For traffic safety
Tomi Niemi, Planner at the Finnish Road Safety Council, telephone 020 7282 334, tomi.niemi(at)liikenneturva.fi

Regarding electric scooter accidents
Interview requests for Arja Kobylin
Via HUS Media Services, telephone 050 427 2875, viestinta(at)hus.fi