New EU award to celebrate product safety champions
The European Commission is launching a new Product Safety Award to reward businesses that excel in product safety. We welcome businesses - small and big - to apply for this award in the categories of online sales and childcare products. Winners will receive their Awards this September from European Commissioner for Consumers, Věra Jourová.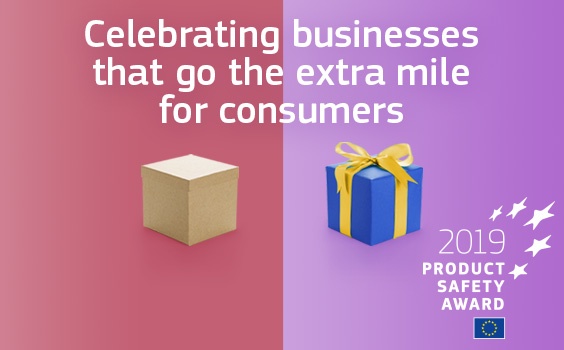 All consumers expect and deserve safe products.This new award will give recognition to companies who put product safety at the heart of what they do, going beyond EU requirements. It's for those who innovate and invest to make their products and services safer, raising the standards for consumer protection across Europe.
Věra Jourová, European Commissioner for Justice, Consumers and Gender Equality said, "We want to encourage more companies to make product safety a priority and to keep safe our children, our families and friends. There are still too many dangerous products that are recalled or cause harm. The Product Safety Award is a chance for companies to be rewarded for going the extra mile to keep their customers safe."
Online shopping and childcare products in the spotlight
This year, companies can apply under two categories:
Online sales: companies selling online that pay particular attention to the safety of the products they offer can apply for the award. We are looking for best practices and processes for example when recalling dangerous products or detecting them before they go on sale.

Childcare products: companies putting children's safety at the top of their priorities can apply for the award. That may be, for example, the way they design a baby's cot, the creative way in which they communicate risks to their customers, the outstanding quality of their after-sale services, or the ways they integrate product safety into the supply chain and life cycle of the product.
Recognition for businesses big and small
There are 12 Awards available: six for 'online sales' and six for 'childcare products'. A Gold, Silver or Bronze award will be given to three SMEs and three larger companies in each category.
Winners will receive their Awards from Commissioner Jourová in a ceremony in Brussels this September and will get a chance to share their ideas and best practices with their industry peers.
Apply now to win an Award!
To apply, companies must be based in one the 31 European Economic Area countries (the 28 EU Member States plus Iceland, Norway and Liechtenstein). Winning an award will give companies widespread recognition, a boost to their reputation and a chance to position themselves as an industry leader in product safety.
Applications are open now until 7 April 2019.
https://ec.europa.eu/product-safety-award/
Press contacts: [email protected]